Global Google Walkout Over Treatment of Women Within Company
Hang on for a minute...we're trying to find some more stories you might like.
Google employees all over the world, including over 1,000 at the company's headquarters in Mountain View, California, participated in a walk out to protest the culture of sexism and incidents being swept under the rug. The idea for the walkout started as a reaction to a report from the New York Times revealing allegations against some of Google's past  high ranking employees.
One such employee, Andy Rubin, left the company in 2014 to high praise from the CEO at the time, Larry Page, who wanted to "wish Andy all the best with what's next" and thanked him for helping to create the Android operating system. One fact that was not as widely publicized, however, was that Rubin had been in an extra-marital relationship with an employee, who accused him of forcing her to commit a sexual act on at least one occasion. Despite Google determining the accusations to be credible, Rubin was permitted to resign and receive a severance package of monthly payments totalling $90 million. Others have treated more justly, however: at least 48 employees have been fired for sexual harassment without receiving any sort of payout.
At 11:10 AM local time on Thursday morning, employees in the US, Singapore, Zurich, London, Tokyo, and Berlin walked out to protest decisions such as these, as well as experiences with sexism on a more personal level, with many people sharing personal stories of mistreatment in their workplace. "It's clear the executives won't do this for us so we're taking matters into our own hands.", said a spokesperson for the group. The protestors left leaflets like the one pictured below as they walked: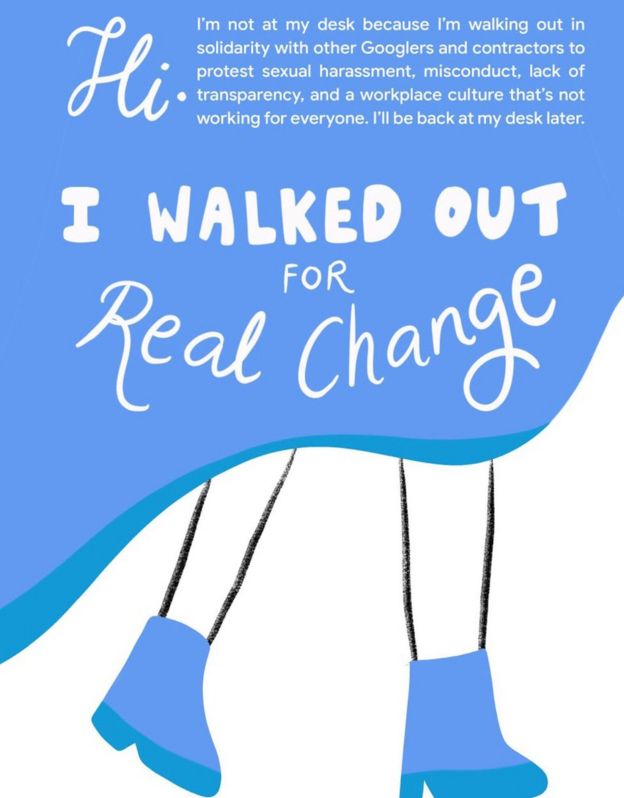 A list of demands has been submitted by the organizers of the event to the management of Google, namely:
A commitment to end pay and opportunity inequality
A publicly disclosed sexual harassment transparency report
A clear, uniform, globally inclusive process for reporting sexual misconduct safely and anonymously
The elevation of the chief diversity officer to answer directly to the CEO, and make recommendations directly to the board of directors
The appointment of an employee representative to the board
An end to forced arbitration in cases of harassment and discrimination for all current and future employees
Forced arbitration is a term found in many employee contracts today, especially in the tech companies of Silicon Valley. It mandates that any disputes be settled out of the court system and within the company, so nothing reaches the public or media sphere. While it ostensibly exists to protect the reputations of the accused and accuser, it has been widely criticized for its utilization both in helping the accused save face and silencing the allegations of the victim. If this process were to be eliminated, victims of assault would be able to sue their aggressors.
Concerning these events, CEO Sundar Pichai had this to say in a company-wide email: "I understand the anger and disappointment that many of you feel," he said in an all-staff email. "I feel it as well, and I am fully committed to making progress on an issue that has persisted for far too long in our society… and, yes, here at Google, too." There has been no official response by Google to the demands presented as of yet.